cheapest free sample Essence - 7 Inch HD Digital Photo Frame (16:9) - Ultra Slim



Seller Info:

China Topwin Industry Company Limited is a specialty trader of a variety of toys and hobby items, such as electric and gas-powered model airplanes and accessories, electric micro-helicopters, off-road cars, racing cars...



Price:

US$ 42.49

/ Piece

Description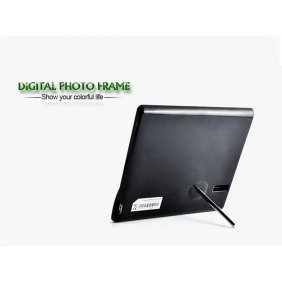 Highlights:
- 7 inch Display
- 800x480 Display
- Widescreen LCD
- Ultra Slim design
- Ultra modern design
- The Essence 7 Inch Digital Photo Frame is a widescreen digital picture frame that comes in an ultramodern design with amazing high quality HD display that supports millions of colors, bringing your photos to life.
- The Essence 7 Inch HD Digital photo frame is what you have been searching for. This sleek looking 7 inch wide screen digital photo frame comes with an SD card slot and a USB port, which can be used to display thousands of your favorite holiday, wedding, adventures, family and friends photos.
- The resolution on this digital picture frame is simply amazing! Supporting up to 16 million pixels, and displaying your photos at 800x480 resolutions giving you 330 pixels per square inch. In lemans terms, when capturing a photo using a 12MP DSLR, you'll get 13 million pixels, which means that the Essence Digital picture frame will not sacrifice on the quality of your high res photos, and thus enabling you to display exactly what you have captured on your digital camera.
- The Essence widescreen digital photo frame is designed to be user friendly and simple to operate using the 6 front operational buttons to simply navigate, left, right, up, down, enter and mode. Included as an added bonus feature, you can display either a calendar which also includes time display, or an analog/digital clock that also includes the date display.
- The Essence 7 Inch Digital Photo Frame is brought to you at a factory direct wholesale price from the leaders in wholesale consumer electronics, ankaka. Click "Add to Cart" now, and we'll express ship you a sample so you can start displaying you favorite photos in a series of high clarity slide shows.
Specification:
- Main Function: Digital Photo Frame
- Color: Black
- Display: 7 inch LCD screen
- Maximum Mega Pixels Supported: 4000 x 4000 Pixels
- Screen resolution: 800x480
- Brightness: 300 cd/m2 (adjustable)
- Contrast Ratio: Contrast Ratio: 350:1
- Clock and Calendar Support: Yes
- Power Supply: AC 100V-240V - 50/60Hz (DC 5V)
- Keys: Identify, left, right, up, down, menu
- Picture Format: JPEG
- External memory: SD cards, USB
- Buttons:
- Mode button
- Enter button
- Up button
- Down button
- Left button
- Right button
- Input/output/connectivity:
- SD Slot
- DC IN
- USB 2.0 port
- Settings:
- Date & Time
- General Settings - Brightness (Darker, Normal, Brighter), Language, Reset
- Update All
- Slide Show - Random, Repeat All, Single,
- Interval - 3s, 10s, 30s, 1 Minute
- Transition - Ramdon, Insert, 3D Float, Shutter, 3D Circle, 3D Cude, Fade, Reel, Block Flip, Cross Comb.
- Clock
- Calendar
- Maximum SD Card Compatibility: 16GB
- Maximum USB Flash Key Compatibility: 8GB
- Dimensions: L:183 x W:167 x D:13 (mm)
- OSD Language: English, French, German, Italian, Spanish, Portuguese, Dutch
- Certification: CE, FCC, RoHs
- Wholesale Electronics Ref.: WHOLESALEQ6L562D957KF
Notes:
- Multiple OSD languages to chose from
- Comes with Clock and Calendar feature
- Great ornament for any home or office decor
- Widescreen LCD display of your favourite photos
Package Included:
7 Inch Digital Photo Frame (16:9)
Power Adapter - 100-240v